vertical transport of solid goods
Tramak CVC
TRAMAK CVC are used for vertical transport of solid goods, such as cartons, boxes, baggage, barrels, etc. Applications are f.e. crossing forklift-driveways, production areas in different levels, high capacity sorting systems, airport baggage transport check-in to makeup.
High capacity of hundreds or even thousands on a very small space saving footprint and up to several levels height are arguments for these systems, versus inclining straight conveyor and even versus spiral lifts.
Workplace environmental friendly low noise operation with the original TRAMAK Rubber-Blockchain (TRBC) avoid uncomfortable ear protection for valuable staff. TRBC operates grease free and clean, protecting sensible products, even in food industry.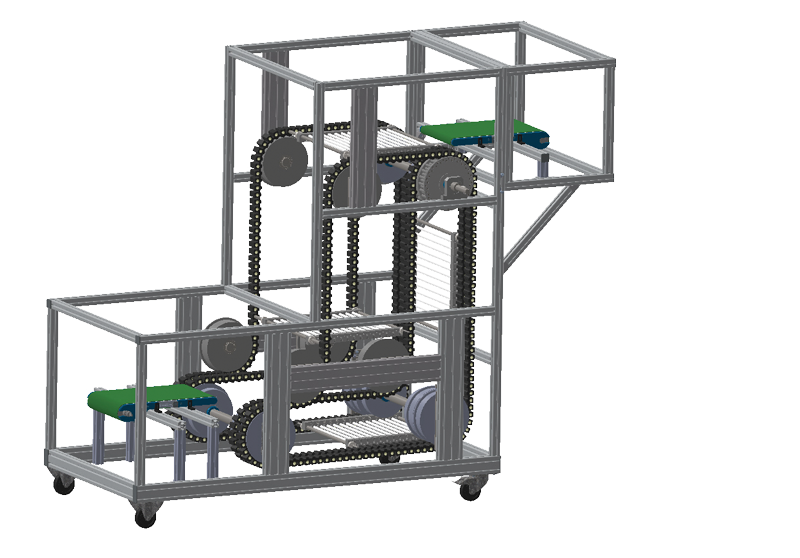 TRAMAK manufactures different sizes of CVC.
Declared mainly by installed chain size
T1 MINI –
for very small and light weight parts
T2 NORMAL –
for typical components in size and weight
T3 STRONG –
for larger components and
higher weights. Engineering layout will tell
the limits
Flexible Platforms
light weight & long lasting
Flexible Platforms built to required size for the transported products – light weight and long lasting
Tramak Original
Rubber Blockchains
TRAMAK original Rubber Blockchains driven by TRAMAK roller sprocket
King Abdul Aziz International Airport Jeddah:
design, supply, installation, testing and Commissioning of two Vertical Conveyor systems along with its control and integration to SCADA System. Design, supply, installation of raised floor, Check-in Counters, weighing scales infeed and outfeed conveyors.
Upgrading of old SCADA system to latest in North and South Terminals.
JEZAN Airport:
Retrofit of old conveyors system to latest and its control with PLC
NAJRAN Airport:
Retrofit of Passengers Boarding bridges with latest PLC, HMI and software engineering.
ABHA Airport:
Upgrading, replacing of HMI with latest system